Upgrade Alerts
Upgrade Alerts give you a quick snapshot into the power and diversity of the Streamdesk CMS / CRM platform, it also shows you how it is constantly adapting to changes in thinking and technology.
Web enquiries are the life blood of any great website. They give you leads, sales, feedback and drive the productivity of your business.
How you deal with those Web Enquiries is very important.
StreamDesk now has full integration between your web enquiries and your email platform.
View the Email Trail a Web Enquiry has created
Gain Access to your Web Enquiry Directly from your Email System
Update Email, it then updates the status of your Web Enquiry
Better User Interface in your Web Enqiuries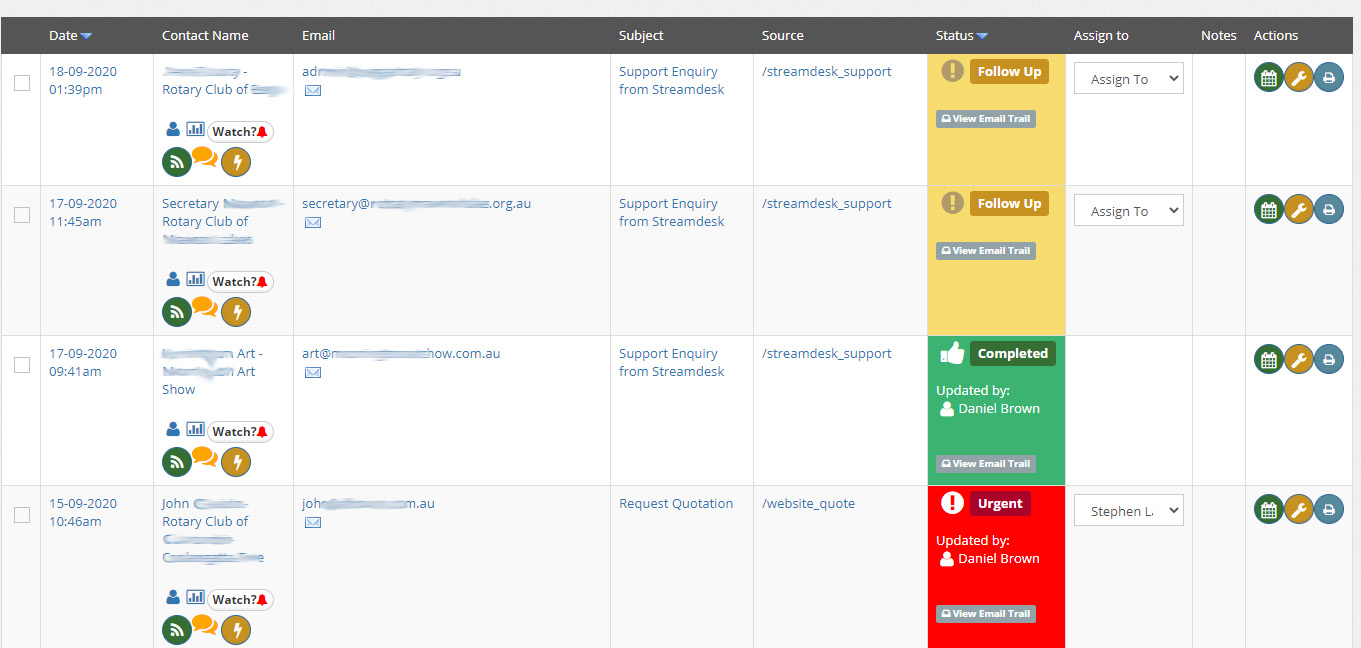 To better address SPAM across our entire platform, we are rolling out Google ReCaptcha (I am not a Robot) across all our website contact forms for FREE
Our New Refund Module allows you to cancel and refund any payment made within the StreamDesk platform.
Payments or Sales can be cancelled directly from StreamDesk with one Click
Payments reversed and buyer instantly notified by SMS and email
All audit trails reversed while maintaining history of the transaction
All done securely behind password and encrytption.
1. One Touch Refunds
2. Secure with your unique Password
3. Full Audit Trail
To buy this upgrade for your package - click here to request and upgrade
Announcing the NEW SMS Console
Link to events
Guage your recipients
Check your Queue
Book your SMS campaign to send at any time
Better User Interface
You can now set your Event Promotions on Auto Pilot using Streamdesk.
Send SMS event confirmations
Event SMS reminders
Set your automatic send SMS date and times
All displayed in an easy to use format
You can now book virtual training and consultation sessions with us from StreamDesk. At the top right of StreamDesk where you see Contact us.
Our Project Management platform has great new functionality:
Column searching
Sorted by Date Last Activity as default
Ticket ID's
Email Response function with email preloading
Total Time Spent calculations
Last note added
Plus loads more
So if you want to know what anyone been working on – on any given day:
Search the Staffs Name
Search the Date latest Activity column
And so on
Announcing StreamDesk Project Management
Create Tasks against Contacts anywhere in StreamScape
From Emails
Web Enquiries
Inside a contact record etc
Inside the Project Task module
Features Included:
Share with other staff
Track
Add Budgets
Add time taken
Add Notes
Create Support Tickets
Quick and Easy Reporting
Our great new Task engine integrates our email system allowing you to easily task an email to any employee, then track it's progress.
Go to your Task Engine
Check its status - Critical or Important
Read any notes added by any employee who has been allocated the task
Check the other employees who are engaged in the task
Check its percentage completion
Watch any task
Plus loads more
You can now create and set Tasks against contacts from anywhere you seen the SPANNER icon in StreamDesk like in:
Emails
Contacts
Enquiries
Sales
Any Report area
Extra functions added for Tasks:
Add notes against Tasks
Track and Watch Tasks
Great new Features for your Emails:
Better Design
Starred Emails - Drill into Important, Completed etc
Instant access to your Calendar, Tasks and Snippets
Instantly create a Task, Appointment with your Contact
One click Lightning Emails
Plus loads more
For our StreamDesk Community who use our email platform as well as our CRM platform.
We have added LIGHTNING emails
You can literally reply to an email or send an email to a contact in under 1 second.
Just click on the lightning icon, add your quick email and click SEND.
It even adds your Signature to the email as well.